AQUATIC VEGETATION MANAGEMENT
Plants that grow in the water can create a complex habitat, providing a food source as well as a hiding place for small fish. Vegetation needs to be managed to keep a beneficial environment for all involved. We look to promote native, desirable vegetation while identifying and controlling non-native, aggressive varieties.
The Aquatic Vegetation Management Plan addresses this at Smith Mountain and Leesville Lakes through identification, control and permitting measures. The process requires ongoing identification and prevention and seeks to preserve recreation and shoreline access.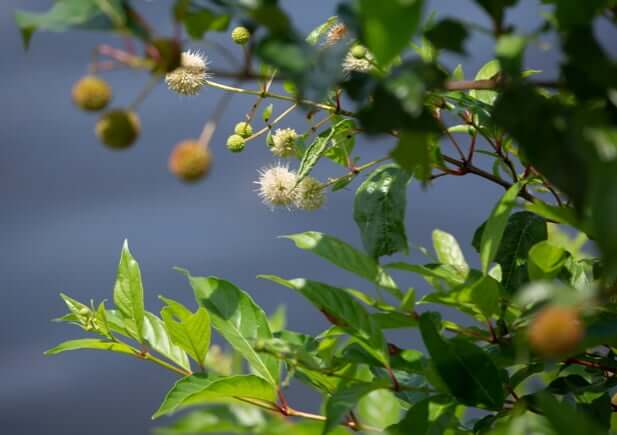 PERMITS AND FORMS
Treating the water with herbicides to control aquatic vegetation must be done by a licensed applicator. Those licensed to treat the lake must receive a permit and submit a follow-up report within 30 days of the treatment.
---
QUESTIONS ABOUT AQUATIC VEGETATION
Contact the Smith Mountain Lake Association (SMLA) at
540.719.0690
to identify the type of vegetation. They have a group of trained volunteers who will visit your property and determine the species. If it is invasive, it can be reported to the Tri-County Lakes Administrative Commission (TLAC) at
540.721.4400
. Their treatment program may be able to treat the vegetation.
No. Property owners are prohibited by state regulation from doing their own treatments. Chemical applicators must be licensed by the state. If you hire a licensed applicator, they will need to have a
permit for the treatment
and submit a
follow-up report
.
Absolutely! Native vegetation is an attribute to the lake and is enjoyed by largemouth bass and other types of fish. Property owners are encouraged to plant native vegetation such as buttonbush and water-willow along their shorelines to enjoy the diverse attributes of lake living.
Yes. Treatment is not allowed from mid-March through mid-June since it is fish spawning season, however after June 15, treatment is fine as long as a permit is obtained and it is performed by a licensed applicator.
Permits are valid for 3 months. If your contractor isn't available within that time, please contact us to
extend the permit
.
Protect the spread of aquatic invasive species by using the clean, drain, dry technique.
Clean

off visible aquatic plants, animals, and mud from all equipment before leaving water access

Drain

motor, bilge, livewell, and other water containing devices before leaving water access

Dry

everything for at least five days OR wipe with a towel before reuse